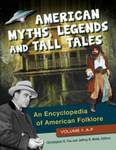 Roles
Editors:
Christopher R. Fee, Gettysburg College
Jeffrey Webb, Huntington University
Assistant Editors:
Danielle R. Dattolo '15, Gettysburg College
Emily A. Francisco '14, Gettysburg College
Bronwen Fetters
Jaime Hillegonds
Andrew Wickersham
Description
Folklore has been a part of American culture for as long as humans have inhabited North America, and increasingly formed an intrinsic part of American culture as diverse peoples from Europe, Africa, Asia, and Oceania arrived. In modern times, folklore and tall tales experienced a rejuvenation with the emergence of urban legends and the growing popularity of science fiction and conspiracy theories, with mass media such as comic books, television, and films contributing to the retelling of old myths. This multi-volume encyclopedia will teach readers the central myths and legends that have formed American culture since its earliest years of settlement. Its entries provide a fascinating glimpse into the collective American imagination over the past 400 years through the stories that have shaped it. [From the Publisher]
Copyright Note
This is the publisher's version of the work. This publication appears in Gettysburg College's institutional repository by permission of the copyright owner for personal use, not for redistribution.
Recommended Citation
Fee, Christopher and Jeffrey Webb, eds. Encyclopedia of American Myth, Legend, and Folklore. 3 Volumes. Santa Barbara, CA: ABC-CLIO, 2016.
Required Publisher's Statement
American Myths, Legends, and Tall Tales: An Encyclopedia of American Folklore by Christopher R. Fee and Jeffrey B. Webb, Editors; Danielle Dattolo, Emily Francisco, Bronwen Fetters, Jaime Hillegonds, and Andrew Wickersham, Assistant Editors. Copyright © 2016 by ABC-CLIO, LLC. All rights reserved. Reproduced with permission of ABC-CLIO, LLC, Santa Barbara, CA.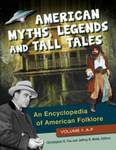 COinS