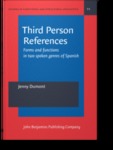 Description
This volume, a case study on the grammar of third person references in two genres of spoken Ecuadorian Spanish, examines from a discourse-analytic perspective how genre affects linguistic patterns and how researchers can look for and interpret genre effects. This marks a timely contribution to corpus linguistics, as many linguists are choosing to work with empirical data. Corpus based approaches have many advantages and are useful in the comparison of different languages as well as varieties of the same language, but what is often overlooked in such comparisons is the genre of language under examination. As this case study shows, genre is an important factor in interpreting patterns and distributions of forms.
The book also contributes toward theories of anaphora, referentiality and Preferred Argument Structure. It is relevant for scholars who work with referentiality, genre differences, third person references, and interactional linguistics, as well as those interested in Spanish morphosyntax. [From the Publisher]
Copyright Note
This is the author's version of the work. This publication appears in Gettysburg College's institutional repository by permission of the copyright owner for personal use, not for redistribution.
Recommended Citation
Dumont, Jenny. Third Person References: Forms and Functions in Two Spoken Genres of Spanish. Amsterdam, NL: John Benjamins, 2016.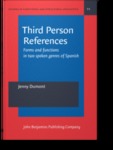 Included in
COinS