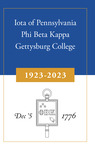 Description
In observance of one hundred years as a Phi Beta Kappa chapter sheltered at Gettysburg College, the Iota of Pennsylvania chapter has published a concise historical overview of the chapter's history.
Updating previous publications authored by Dr. Charles H. Glatfelter, longtime Iota chapter member and professor of history, for the fiftieth and seventy-fifth anniversaries, Dr. Michael Birkner, chapter historian and professor of history, has written an introductory essay that provides a new understanding of Gettysburg College's nearly two-decade long effort to secure a chapter of Phi Beta Kappa.
Since its formal installation in 1923, the Iota chapter has inducted 3,337 members into its ranks. This updated history include an appendix with chapter officers from 1923-2023, as well as a full list of chapter members through October 2023 based upon membership records held at the Phi Beta Kappa Society.
Publisher
Iota of Pennsylvania chapter of Phi Beta Kappa
Keywords
PBK, Phi Beta Kappa, Iota Chapter, Gettysburg College
Creative Commons License


This work is licensed under a Creative Commons Attribution-Noncommercial-No Derivative Works 4.0 License.
Recommended Citation
Birkner, Michael and Glatfelter, Charles H., "Iota of Pennsylvania Phi Beta Kappa Gettysburg College: 1923-2023" (2023). College History Publications. 6.
https://cupola.gettysburg.edu/collegehistory/6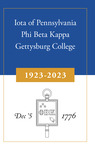 Included in
COinS