Title
Preview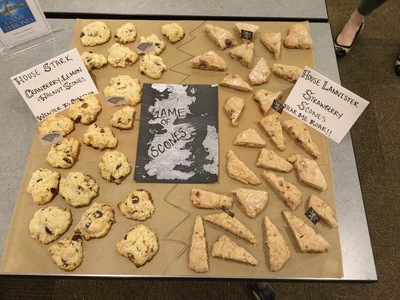 Book
Game of Thrones, by George R.R. Martin
Project Description
In celebration of National Library Week 2015, Musselman Library held its second annual Edible Book Festival. Library staff and faculty created many book-inspired treats to share with the campus community. This year we awarded prizes in several categories as well. This submission was created by Mallory R. Jallas.
The scones were strawberry (House Lannister) and cranberry, lemon, & walnut (House Stark). They represent the two houses which are enemies in the books/tv show.
Edible Books Festival Winner for the Punniest!
Keywords
Edible Books Festival, Musselman Library, National Library Week
COinS