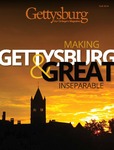 Description
Table of Contents:
From the President Janet Morgan Riggs '77
A Running Leap of Faith (Cindy Holck McWilliams '84)
Office Hours: Prof. Timothy N. Good P'14
His Country is Tibet (Lhagyari Trichen Namgyal Wangchuk '17) Kasey Varner '14
The 411: Bob Joseph '69
What Makes A Great... Faculty Thomas F. George '67
Chief Diversity Officer Appointed (Jeanne Arnold)
Tony Awards Spotlight Charlotte Wilcox '69
The Garden State's CEO of Fun (Wayne Hasenbalg '76)
Stadium Locker Room Revamped
Can You See Yourself in Gettysburg's Future? Matt Haag '94
Making Gettysburg and Great Inseparable
$4,000 Made All The Difference (Sarah Robertson '17)
Teaching in a Radically Changing World (Prof. Steve Gimbel)
Teaching Graduate Students. In Europe. Her First Year. (KJ Sanger '17, Prof. Rimvydas Baltaduonis)
Expanding Horizons With Global Experiences (David Brennan '75)
Plank Renovation
How Good Can We Be?
Onward Into The Past (Sarah Johnson '15, Prof. Ian Isherwood '00)
Gettysburg Great Weekend
Greatness Takes Action
Class Notes
Publication Date
Fall 2014
Publisher
Gettysburg College
Keywords
Alumni Magazine, Gettysburg College
Disciplines
Education | Higher Education | Liberal Studies
Recommended Citation
Communications & Marketing, "Gettysburg: Our College's Magazine Fall 2014" (2014). Gettysburg: Our College's Magazine. 3.
https://cupola.gettysburg.edu/gburgmag/3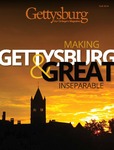 Included in
COinS