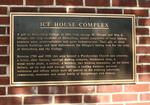 Document Type
Student Research Paper
Publication Date
Fall 2009
Description
A gift to Gettysburg College in 1990 from George W. Olinger and Mae E. Olinger, life long residents of Gettysburg, zestful supporters of local history, common sense preservationists and quiet humanitarians. Their gift of these historic buildings and land underscores the Olingers' lasting love for the town of Gettysburg and the College.
Between 1786 and 1990, this area housed a Presbyterian Church and a cemetery, a livery, shirt factory, carriage making complex, blacksmith shop, a wood-works plant, a cutlery, a bottlery, two brewing companies, an ice cream factory, an ice and cold storage facility, a roofing business, personal residences and offices which were all central to the evolving industrial, commercial, economic, and social fabric of Gettysburg's rich history.
Course Information:
Course Title: HIST 300: Historical Method
Academic Term: Fall 2009
Course Instructor: Dr. Michael J. Birkner '72
Hidden in Plain Sight is a collection of student papers on objects that are "hidden in plain sight" around the Gettysburg College campus. Topics range from the Glatfelter Hall gargoyles to the statue of Eisenhower and from historical markers to athletic accomplishments. You can download the paper in pdf format and click "View Photo" to see the image in greater detail.
Keywords
Gettysburg College, Hidden in Plain Sight, Ice House, Olinger
Disciplines
History | Public History | United States History
Recommended Citation
Amrhein, Elizabeth D., "Discovering History: The History of the Ice House Complex" (2009). Hidden in Plain Sight Projects. 4.
https://cupola.gettysburg.edu/hiddenpapers/4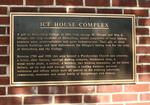 Included in
COinS