Title
Preview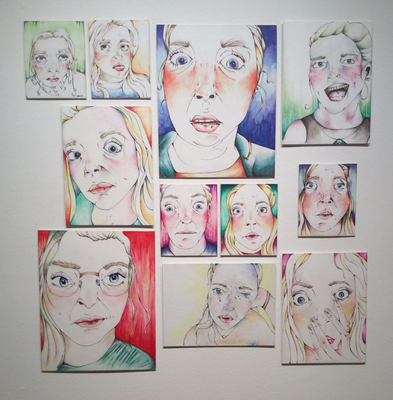 Creation Date
Spring 2015
Description
Ink, Colored Pencil, and Watercolor Pencil on Canvas Board
From the Artist: When I was younger and first discovered I was adopted, it seemed there were so many things I could never possibly know about myself. It was particularly hard when other children in school would boast about their cultural backgrounds and similarities to their families. In an attempt to understand myself and my features I became initially fixated on portraiture, primarily self-portraits. My work now is a product of these early examinations of myself and a refinement on the topic.
The beginning of this spring semester I discovered my birth mother online. I had always assumed that finding her would answer all of my questions. I found it left me with more uncertainty.
In this body of work I focus on illustrative moments, exploring the disconnections and connections between personality and facial features. Moments on the individual level are the central theme. My work examines how people are not defined by their facial features or biology alone, exploring personality as the most descriptive feature. I hope to expose the personality behind the illustration.
My intention is for the audience to learn something about themselves while viewing this series of portraits. I hope that an audience can better understand that our lives are made up of everyday moments which define us. We are not specifically defined by our physical appearance or our facial features. We are defined by our personality and our lives as well.
Keywords
Portrait, Illustration, Water Color, Installation
COinS