Title
Preview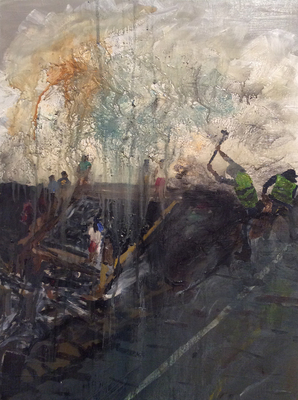 Creation Date
Spring 2015
Description
Oil Paint on Panel
Debaltseve Strategically Important. Edinburgh Not.
From the Artist: Events taking place thousands of miles apart appear within millimeters of each other on a computer screen. Events of joy and the best of humanity appear side by side with stories of terror and war. To better understand these contrasts and strange relationships between disjointed events, I intentionally juxtapose and layer news events, painting to evoke tensions both in content and technique.

The events I choose involve high-energy scenes with lots of human action, apparent or hidden. Visually, the source images I select are scenes charged with energy. When creating compositional relationships between these events, I look for interactions between the storylines and the visual elements. These interactions may parallel or contrast and are apt to change as I continue to work with the images and develop the compositions.
Keywords
Painting, news stories, glazing
COinS