Title
Preview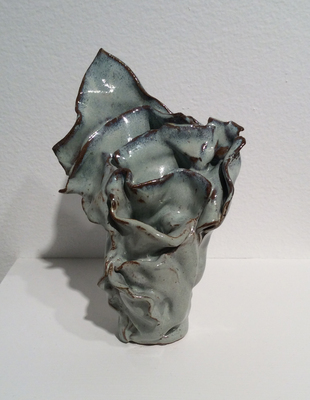 Creation Date
Spring 2015
Description
Stoneware & Glaze
From the Artist: My ceramic works explore the relationship between conscious and subconscious art making processes. Initially I pursued ceramics as concrete and functional, and this was the interesting part for me. Through lots of working time, I have developed greater interest in process and the spontaneity of ceramics.
Motivated by my love for fashion, these slab built pieces resemble the organic and natural form that fabrics can create when touched. Slab building allows me to embrace the unintentional, giving my pieces a more organic and fluid composition. While my pieces are very intentionally built to look like fabric, I also spontaneously allow the slab to fall into place and take on its own form.
Although the work ranges in size, each piece is glazed with a single glaze to allow the focus to be on the form of the piece. In this body of work the subconscious and conscious making process is made visually concrete through the movement of the slab.
Keywords
art, ceramics, clay, studio art
COinS