Title
Preview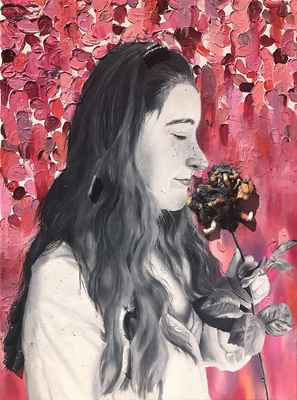 Creation Date
Spring 2017
Description
In the past, I have created paintings that just seem "pretty." This semester, I wanted to dive deeper into the medium of painting and collage in order to depict the darkness that often hides behind prettiness. The backgrounds in my paintings are innocent, beautiful, colorful, and thickly painted on. However, behind this innocence, beauty, color, and impasto paint is darkness. Many people have darkness inside of them that they want to hide from others, or even from themselves. This is why the figures are painted thinly and monochromatically, specifically in a gray scale. Their masks are being stripped away and their true selves are beginning to be exposed. The figures are painted in such detail because that is the way I view the world. I see so many details all the time; it is often overwhelming and contributes to the darkness inside me. I also added a disturbing collage aspect to my paintings, diving deeper behind the masks. By introducing cigarette butts and ashes, the aim was to bring to the forefront what might lie beneath the surface.
Creative Commons License


This work is licensed under a Creative Commons Attribution-Noncommercial-No Derivative Works 4.0 License.
Keywords
Taylor Tims, cigarette, painting
COinS