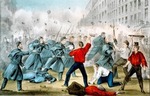 Description
This collection consists of 10 dated letters and one undated letter fragment, all written by either Samuel Epes Turner or Clarinda ("Clara") Turner of Baltimore, Maryland, to their cousins Mary Holyoke (Ward) Nichols and Mehitable Ward of Salem, Massachusetts, between April 29, 1861, and January 13, 1865.
The letters include the Turners' firsthand impressions of Baltimore's historic anti-Union riot of April 19, 1861; reflections on other events of the Civil War, local, regional, and national; statements of their own pro-Union and abolitionist views; responses to the secessionist sentiment prevalent within the city; and discussions of family matters, finances, church business, mutual acquaintances, etc.
Special Collections and College Archives Finding Aids are discovery tools used to describe and provide access to our holdings. Finding aids include historical and biographical information about each collection in addition to inventories of their content. More information about our collections can be found on our website http://www.gettysburg.edu/special_collections/collections/.
Collection Size
.27 cubic feet
Publication Date
January 2012
Keywords
Civil War, Union, abolitionists, Baltimore riots, Civil War correspondence, 6th Massachusetts
Disciplines
History | Military History | Social History | United States History
Copyright Note
This finding aid appears in Gettysburg College's institutional repository by permission of the copyright owner for personal use, not for redistribution.
Recommended Citation
McKinney, Devin, "MS-125: The Samuel E. and Clara Turner Papers, 1861-1865" (January 2012). Special Collections and College Archives Finding Aids. Special Collection and College Archives, Musselman Library, Gettysburg College.
Document Type
Finding Aid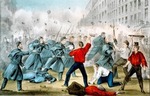 COinS