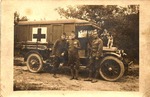 Description
This collection comprises 48 letters from Henry W. Straus to his wife Anna. They were written between June 1918 and March 1919, when Henry, as a U.S. Army medical officer, was serving a British ambulance corps in France. Throughout the letters, Straus addresses his wife with great tenderness and yearning, anticipating their reunion and post-war life. He also displays a progressive attitude with respect to women's independence, abilities, and right to do useful work.
Special Collections and College Archives Finding Aids are discovery tools used to describe and provide access to our holdings. Finding aids include historical and biographical information about each collection in addition to inventories of their content. More information about our collections can be found on our website http://www.gettysburg.edu/special-collections/collections/.
Collection Size
.33 cubic feet
Publication Date
December 2012
Keywords
World War I, WWI, First World War, War Correspondence, 105th Sanitary Train, 30th Division Field Hospital, 130th Field Ambulance, Royal Army Medical Corps, Jewish soldiers
Disciplines
European History | History | Jewish Studies | Military History | Oral History | United States History
Copyright Note
This finding aid appears in Gettysburg College's institutional repository by permission of the copyright owner for personal use, not for redistribution.
Recommended Citation
McKinney, Devin, "MS-130: The World War I Letters of Henry W. Straus" (December 2012). Special Collections and College Archives Finding Aids. Special Collection and College Archives, Musselman Library, Gettysburg College.
Document Type
Finding Aid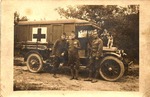 COinS