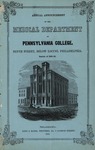 Description
This is an artificial collection of Medical Department catalogs and announcements obtained over time, as well as lists of faculty and alumni created by Samuel G. Hefelbower during his research for his 1932 history of the College. It contains Dr. William H. Gobrecht's account of the history of the institution up to 1859. (This address can also be found in pamphlet form in our 19th Century Pamphlets collection.) It also includes print outs of PDFs of exchanges between faculty and former faculty of the Medical Department. The exchanges were over the dismissal of the majority of the faculty resulting lawsuit by Drs. Darrach and Wiltbank.
Special Collections and College Archives Finding Aids are discovery tools used to describe and provide access to our holdings. Finding aids include historical and biographical information about each collection in addition to inventories of their content. More information about our collections can be found on our website http://www.gettysburg.edu/special_collections/collections/.
Collection Size
.28 cubic feet
Publication Date
May 2013
Keywords
Pennsylvania College, Pennsylvania College Medical Department, Pennsylvania College in Philadelphia
Disciplines
History | History of Science, Technology, and Medicine | United States History
Copyright Note
This finding aid appears in Gettysburg College's institutional repository by permission of the copyright owner for personal use, not for redistribution.
Recommended Citation
Drickamer, Karen D., "MS-137: Medical Department of Pennsylvania College at Philadelphia" (May 2013). Special Collections and College Archives Finding Aids. Special Collection and College Archives, Musselman Library, Gettysburg College.
Document Type
Finding Aid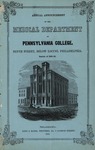 COinS