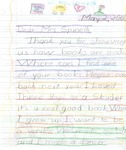 Description
The collection consists mainly of materials used by Spinelli in the writing and publication processes of her books. Handwritten, typed, and word processed drafts from various stages of the books' development are included. E-mail and written correspondence between Spinelli, publishers, and editors is also part of the collection. Several of the books were turned down by multiple publishing houses before being sold, and some manuscripts were never accepted at all. The electronic communication between the author and her editors provides insight into the complicated and lengthy process of revising childrens' books for printing, as well as the task of choosing and collaborating with an illustrator.
Special Collections and College Archives Finding Aids are discovery tools used to describe and provide access to our holdings. Finding aids include historical and biographical information about each collection in addition to inventories of their content. More information about our collections can be found on our website http://www.gettysburg.edu/special_collections/collections/.
Collection Size
3 cubic feet
Publication Date
October 2013
Keywords
Jerry Spinelli, children's author, book manuscripts
Disciplines
Children's and Young Adult Literature | English Language and Literature
Copyright Note
This finding aid appears in Gettysburg College's institutional repository by permission of the copyright owner for personal use, not for redistribution.
Recommended Citation
Fleming, Jenna E., "MS-154: Eileen Spinelli Papers" (October 2013). Special Collections and College Archives Finding Aids. Special Collection and College Archives, Musselman Library, Gettysburg College.
Document Type
Finding Aid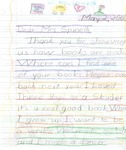 Included in
COinS