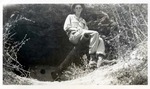 Description
The David Woods Collections consists primarily of letters Woods wrote during his time serving in the Army, stationed in the Philippines. The letters are from August 1, 1946 to September 10, 1947. He was a consistent writer and sent letters home usually at least once a week. A concerned man, he frequently apologizes to his parents, and for not writing more often. All of the letters, except one, are addressed to his family, including his mother, Margaret McGaughy Woods, his father, David Walker Woods II and his little brother, William A. Woods. He liked to take photos and send them home, and he mentions a few times how thankful he is for the camera his father sent him. The collection does not include any letters that he received back from his family or friends.
Special Collections and College Archives Finding Aids are discovery tools used to describe and provide access to our holdings. Finding aids include historical and biographical information about each collection in addition to inventories of their content. More information about our collections can be found on our website http://www.gettysburg.edu/special_collections/collections/.
Collection Size
.75 cubic feet
Publication Date
June 2015
Keywords
World War II, WWII, Second World War, War Correspondence, Philippines
Disciplines
European History | History | Military History | United States History
Copyright Note
This finding aid appears in Gettysburg College's institutional repository by permission of the copyright owner for personal use, not for redistribution.
Recommended Citation
Shirey, Kathryn, "MS-178: David Woods '52 Papers" (June 2015). Special Collections and College Archives Finding Aids. Special Collection and College Archives, Musselman Library, Gettysburg College.
Document Type
Finding Aid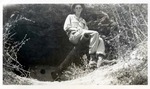 COinS