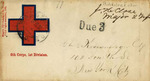 Description
The bulk of the collection consists of 26 letters written by Kronenberger to his parents, Mr. and Mrs. Charles Kronenberger, and aunts and uncles Hill and Ludwig while posted at Camp Perrine, Trenton, New Jersey, in December 1863, and from a camp near Brandy Station, Virginia between January and April 1864. His letters tell about his need for stamps, hats, shirts, vests, a rubber blanket and ink. He states that he likes hard tack. He writes about visiting friends in other units, receiving letters from family and friends, sending money to his parents, sending photographs of himself and receiving photographs, and newspapers (New York Herald, Sunday Mercury and True Flag). He writes of enjoying baseball games between other units, pitching quoits, and hunting for rabbits and squirrels.
Several letters between, Kronenberger's parents and Miss Belle Robison, a nurse/aid at Fredericksburg, discuss the wounds Frederick sustained and his subsequent death, as does a letter from James King, Surgeon General. There is also a letter from a teacher, Anne D. Potts. Miscellaneous items include notes, poems and Charles Kronenberger's 1852 U.S. naturalization certificate. Letters and other material are arranged chronologically.
Special Collections and College Archives Finding Aids are discovery tools used to describe and provide access to our holdings. Finding aids include historical and biographical information about each collection in addition to inventories of their content. More information about our collections can be found on our website http://www.gettysburg.edu/special_collections/collections/.
Publication Date
February 2004
Keywords
Civil War, 2nd New Jersey, Battle of the Wilderness, Battle of Spotsylvania Court House, Civil War medicine
Disciplines
History | History of Science, Technology, and Medicine | Military History | Social History | United States History
Copyright Note
This finding aid appears in Gettysburg College's institutional repository by permission of the copyright owner for personal use, not for redistribution.
Recommended Citation
Ameduri, Christine M., and Sidney Dreese, "MS-015: Frederick H. Kronenberger, Company G, 2nd Regiment New Jersey Volunteers" (February 2004). Special Collections and College Archives Finding Aids. Special Collection and College Archives, Musselman Library, Gettysburg College.
Document Type
Finding Aid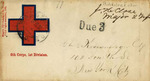 COinS