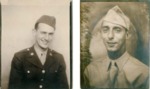 Description
The collection contains 389 letters, 15 V-mail , and 166 additional items addressed to members of the Earman family home. The majority of the correspondence is sent from Ernest and Randolph to their mother, Mrs. Earman. Because the Earman brothers did not see much direct combat, the bulk of their letters are updates on health and daily activities, or candid observations on the war, the Army, the weather, and women. The rest of the collection includes letters addressed to the Earman family from distant or extended family, close friends, and Ernest's foreign and domestic girlfriends. Many of the letters are (legibly) handwritten, though some were typed. While the majority of the items are well–preserved inside their original envelopes, eleven letters are without envelopes and seven envelopes are without accompanying letters; these items are marked as "envelope only" or "letter only." Many envelopes contain a variety of printed ephemera or artifacts like clippings, programs, advertisements, and photographs. There were 31 photographs/ephemera which were not enclosed in any specific letter or envelope; these loose items have been grouped together in Series VIII (see description). There are brief gaps in correspondence which can be attributed to Army furloughs or overseas travel. Because some of the correspondence from Ernest, Randolph, and Granville (particularly the V–mail) was written under censorship, details about military location or movements have been omitted or physically removed from the letters. Historians researching WWII communication and censorship may be interested in the Vmail, telegrams, or letters from the soldiers immediately after they arrived overseas. The collection's female writers offer a helpful gendered perspective of the war, both on the home–front and abroad. Jo Bush's letters detail the life and training of a Cadet Nurse. Mrs. (Dorothy) Randolph Earman's letters express the concerns of a wife and mother trying to manage a household while worrying about the absence of her husband. The letters from Ernest's foreign (often romantic) acquaintances reveal how French and German women saw America, Americans, and WWII. Arguably the collection's greatest strength is its view into the personal lives and relationships of U.S. soldiers while overseas. While he entertained multiple romantic interests during his time as a soldier, Ernest struck up a serious relationship in France with Catherine Seux, whom he hoped to marry one day after returning home. As time passed and marriage proved increasingly unlikely, Catherine's progressively dejected letters—which end quite abruptly in Aug. 1946—give voice to foreign women who, charmed by American soldiers, hoped to marry and come to the United States but were met instead with cultural and economic setbacks.
Special Collections and College Archives Finding Aids are discovery tools used to describe and provide access to our holdings. Finding aids include historical and biographical information about each collection in addition to inventories of their content. More information about our collections can be found on our website http://www.gettysburg.edu/special_collections/collections/.
Collection Size
1.5 cubic feet
Publication Date
July 2017
Keywords
Eamon family, letters, WWII
Disciplines
History | Military History | United States History
Copyright Note
This finding aid appears in Gettysburg College's institutional repository by permission of the copyright owner for personal use, not for redistribution.
Recommended Citation
Morrow, Kayla, "Earman Family Letters from WWII" (July 2017). Special Collections and College Archives Finding Aids. Special Collection and College Archives, Musselman Library, Gettysburg College.
Document Type
Finding Aid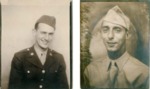 Included in
COinS