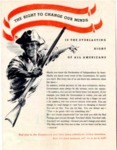 Description
This collection consists primarily of materials produced by the American Legion, the American Coalition, and Patriotic Education, Incorporated for distribution to schools and newspapers, speeches by anti-communist politicians and military members, and publications regarding American nationalism. One of the speeches given is by a notable Gettysburg alumnus, Maj. Gen. Charles Willoughby. The collection focuses heavily on the years 1951 to 1955. While there are multiple anti-communist groups featured, the collection does not provide much background on the organizations themselves. The collection provides an overview of various political issues of the time including the Bricker Amendments, a series of Amendments concerning international treaties and executive power limit that were considered in the 1950s. The opinions of the organizations on immigration laws and Constitutional amendments are also discussed. The collection provides examples of anti-communist propaganda and educational materials provided by each organization. Most of the materials were published by the organizations themselves, although some are from mainstream newspapers. While the collection does provide details on specific government practices, it does not give a wide representation of attitudes amongst anti-communist groups across the United States. The American Coalition section focuses primarily on the Bricker Amendment and immigration reform.
Special Collections and College Archives Finding Aids are discovery tools used to describe and provide access to our holdings. Finding aids include historical and biographical information about each collection in addition to inventories of their content. More information about our collections can be found on our website http://www.gettysburg.edu/special_collections/collections/.
Collection Size
0.125 cubic feet
Publication Date
February 2017
Keywords
Anti-Communism propaganda, Maj. Gen. Charles Willoughby, American Coalition of Patriotic Societies, American Legion, Patriotic Education, Incorporated, Anti-Communism 20th Century
Disciplines
History | Military History | Political History | United States History
Copyright Note
This finding aid appears in Gettysburg College's institutional repository by permission of the copyright owner for personal use, not for redistribution.
Recommended Citation
Jones, Danielle. "MS - 206: Anti-Communist Publicity Materials'' (February 2017). Special Collections and College Archives Finding Aids. Special Collections and College Archives, Musselman Library, Gettysburg College.
Document Type
Finding Aid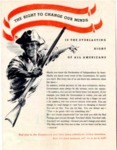 COinS