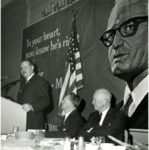 Description
This collection comprises an assortment of President Dwight D. Eisenhower related political materials from the 1960s and 1970s. A few relate directly to the donor's family (Hauser), but most do not. The collection is predominantly programs from Eisenhower-related events or dedications, a few pamphlets and photographs, and a few political bumper stickers from national elections. There is also the occasional item related to President Ronald Reagan or President Richard Nixon. This collection does not provide a wealth of information about or memorabilia from local politics or political events that Eisenhower attended.
Special Collections and College Archives Finding Aids are discovery tools used to describe and provide access to our holdings. Finding aids include historical and biographical information about each collection in addition to inventories of their content. More information about our collections can be found on our website http://www.gettysburg.edu/special_collections/collections/.
Collection Size
.33 cubic feet
Publication Date
September 2016
Keywords
Eisenhower, Dwight D. (Dwight David), 1890-1969, Presidents, United States, Elections, 1980, 1972, Politics and government, 1945-1989, Republican Party (U.S. : 1854-), History, 20th century, Political Culture
Disciplines
Cultural History | History | Military History | Political History | United States History
Copyright Note
This finding aid appears in Gettysburg College's institutional repository by permission of the copyright owner for personal use, not for redistribution.
Recommended Citation
Roedner, Lauren H. "MS-201: Hauser Collection of Eisenhower Political Ephemera" (September 2016). Special Collections and College Archives Finding Aids. Special Collections and College Archives, Musselman Library, Gettysburg College.
Document Type
Finding Aid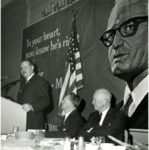 COinS