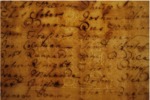 Description
The Early American Document Collection contains broadsides, manuscripts, and other material from the colonial era and early republic. The material covers a broad range of subjects, mostly pertaining to administration in colonial Philadelphia, and the American Revolution. The series listing below further specifies the subject areas within the collection. Possible research topics include: colonial-era legal, land, or government documentation, the influence of broadside announcements, the use of German in colonial American documents, and for a general investigation into the happenings of the Continental Army. The military documents are more sparse in subject area, and do not include engagement information. The dates are largely bulked from 1727-1728, and also from 1775-1787. The collection does not contain mid-century documents pertaining to topics like the French and Indian War, or specific topics on daily colonial life. The Early American Document Collection also contains a strong variety of colonial watermarks, from domestic and foreign paper. Possible research topics concerning watermarks include: sourcing of the papermaker, the inspiration behind the designs, the region of production, the trade connections between papermaker and user, and the connections between documents with the same watermarks. Further historical information on the use of watermarks in early American documents can be found in the historical notes above.
Special Collections and College Archives Finding Aids are discovery tools used to describe and provide access to our holdings. Finding aids include historical and biographical information about each collection in addition to inventories of their content. More information about our collections can be found on our website http://www.gettysburg.edu/special_collections/collections/.
Collection Size
2.87 cubic feet
Publication Date
July 2016
Keywords
Adams, John Broadsides, Pennsylvania Dutch Country, United States Courts, Economic Surveys, United States Land Grants, Colonial period, 1600-1775, Pennsylvania, History, Revolution, 1775-1783
Disciplines
Political History | Public History | United States History
Copyright Note
This finding aid appears in Gettysburg College's institutional repository by permission of the copyright owner for personal use, not for redistribution.
Recommended Citation
Black, Tyler. "Early American Document Collection" (July 2016). Special Collections and College Archives Finding Aids. Special Collections and College Archives, Musselman Library, Gettysburg College.
Document Type
Finding Aid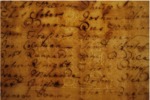 COinS