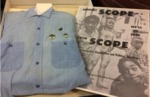 Description
This collection consists primarily of materials produced by SCOPE for SCOPE participants, correspondence between Richard Hutch and various companions, and publications regarding civil rights. Though aspects of the collection extend beyond 1965, it focuses most heavily on Hutch's SCOPE experience during the summer of 1965 and does not provide great detail on other civil rights organizations. The collection provides an overview of the role that SCOPE played in the larger Civil Rights Movement, as well as valuable insight to the individual experience of a participant in the Civil Rights Movement. While the collection includes materials from Hutch's time at Gettysburg College, it does not provide strong representation of the attitude among the larger student body regarding civil rights. Most of the materials from Hutch's undergraduate experience were written by him and reflect his own personal perspective on the Civil Rights Movement.
Special Collections and College Archives Finding Aids are discovery tools used to describe and provide access to our holdings. Finding aids include historical and biographical information about each collection in addition to inventories of their content. More information about our collections can be found on our website http://www.gettysburg.edu/special_collections/collections/.
Collection Size
1.5 cubic feet
Publication Date
June 2016
Keywords
Civil Rights movement, SCOPE, voter registration, Alabama, Gettysburg College alumni
Disciplines
African American Studies | History | Social Welfare | United States History
Copyright Note
This finding aid appears in Gettysburg College's institutional repository by permission of the copyright owner for personal use, not for redistribution.
Recommended Citation
Fernandes, Melanie. "MS-194: Richard Hutch '67 Papers" (June 2016). Special Collections and College Archives Finding Aids. Special Collections and College Archives, Musselman Library, Gettysburg College.
Document Type
Finding Aid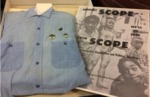 COinS