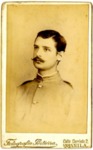 Description
This collection is divided into three series: I. Letters; II. Photographs; and III. Ephemera.
The bulk of the collection consists of 14 letters sent by William Dietz to Ernst Laubenheimer between 1900 and 1902. The first is written from New York in 1896, just after Ernst and his father have returned from a European trip. The second, sent from Atlantic City three years later, gives an interesting view of that fledgling coastal resort long before it became a major attraction.
The rest of Dietz's letters are written from the Philippines in the midst of the Philippine- American War (1899-1902). He references his military work, but mainly gives his impressions of life in Manila, Calocoon, and Angeles. He says repeatedly that he likes the Philippines and has no desire to return to the US; refers to Filipinos as "natives" and predicts they will "civilize" rapidly if they only trust American intentions; and makes comments both disparaging and favorable about Filipino men and women. The letters contain many detailed observations – local dietary practices, geographical features, prices of items, rates of pay, etc. Later, Dietz tells Ernst of his hospitalization, and of his terrible experience returning to the US on an army troop ship.
The collection includes three other relevant communications. In March 1903, Ernst writes William to ask where he is. Weeks later, a letter from the War Department informs Laubenheimer of his friend's discharge, saying his current whereabouts are unknown. Finally, a postcard sent by Dietz from Salem, Massachusetts, in 1915 reestablishes contact between the old friends.
Series II includes a photograph of Dietz from the time of his service, and three images captured in Japan, circa 1914. The latter are of unknown origin, and their connection, if any, with the Dietz-Laubenheimer relationship is unclear.
Series III consists of a sheet of Japanese newspaper, and a Japanese illustration. Provenance of these items is also unknown.
Special Collections and College Archives Finding Aids are discovery tools used to describe and provide access to our holdings. Finding aids include historical and biographical information about each collection in addition to inventories of their content. More information about our collections can be found on our website http://www.gettysburg.edu/special_collections/collections/.
Collection Size
.27 cubic feet
Publication Date
April 2016
Keywords
William F. Dietz, Philippines, Philippine-American War, US Army
Disciplines
History | Military History | United States History
Copyright Note
This finding aid appears in Gettysburg College's institutional repository by permission of the copyright owner for personal use, not for redistribution.
Recommended Citation
McKinney, Devin. "MS-193: The Letters of William F. Dietz" (April 2016). Special Collections and College Archives Finding Aids. Special Collections and College Archives, Musselman Library, Gettysburg College.
Document Type
Finding Aid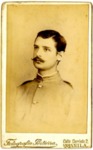 Included in
COinS