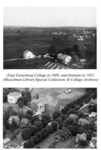 Description
In January Term of his senior year, Gettysburg College history major Gregory J. Landrey '77 took an individualized study course under Professor Charles Glatfelter. His project—an up-to-date chronicle of the college's real estate history including land purchases, demolished buildings, and recent construction projects—entailed extensive research in numerous college offices, as well as at the Adams County Historical Society. As the project proceeded, it also expanded, ultimately taking the entire spring semester to complete.
Landrey's final 68-page paper, titled A History of the Gettysburg College Campus, was submitted on May 27, 1977. Recognized as an important addition to the chronicles of the college, it was duplicated, bound, and added to Schmucker (now Musselman) Library's general and special collections. Glatfelter later acknowledged Landrey's work in his definitive institutional history, A Salutary Influence: Gettysburg College, 1832-1985 (1987). Today the Landrey monograph is frequently consulted by students in connection with their own college history projects.
This collection contains, in addition to a few photocopied documents, Greg Landrey's handwritten notes, survey drawings, and index cards. It also includes the complete holographic draft of A History of the Gettysburg College Campus.
Special Collections and College Archives Finding Aids are discovery tools used to describe and provide access to our holdings. Finding aids include historical and biographical information about each collection in addition to inventories of their content. More information about our collections can be found on our website http://www.gettysburg.edu/special_collections/collections/.
Collection Size
.27 cubic feet
Publication Date
November 2015
Keywords
Gettysburg College, real estate history, Charles Gladfelter
Disciplines
Legal | Public History | United States History
Copyright Note
This finding aid appears in Gettysburg College's institutional repository by permission of the copyright owner for personal use, not for redistribution.
Recommended Citation
McKinney, Devin. "MS-187: Papers of Gregory J. Landrey, Class of 1977" (November 2015). Special Collections and College Archives Finding Aids. Special Collections and College Archives, Musselman Library, Gettysburg College.
Document Type
Finding Aid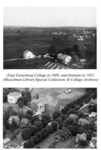 COinS