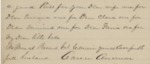 Description
The collection contains 31 letters from Aaron Andrews (Andreas) to his wife over a 3 year span during the war (1862 to 1865). Andrews was a Pennsylvania merchant from Luzerne County who enlisted in the army in August 1862. He followed his unit through the Eastern Theater, and was promoted to 2nd Lieutenant before mustering out in August, 1865. The collection also contains biographical information done by a family member, census records, and marriage records. Each letter is accompanied by a typewriter transcription by the same family member.
Special Collections and College Archives Finding Aids are discovery tools used to describe and provide access to our holdings. Finding aids include historical and biographical information about each collection in addition to inventories of their content. More information about our collections can be found on our website http://www.gettysburg.edu/special_collections/collections/.
Collection Size
0.25 cubic feet
Publication Date
July 2015
Keywords
Civil War, Pennsylvania Cavalry, Fitz Hugh Lee, letters, transcripts
Disciplines
History | Military History | United States History
Copyright Note
This finding aid appears in Gettysburg College's institutional repository by permission of the copyright owner for personal use, not for redistribution.
Recommended Citation
Semmel, Steven. "MS-181: Papers of Aaron Andres (Andreas) 16th PA Cav., Co. E" (July 2015). Special Collections and College Archives Finding Aids. Special Collections and College Archives, Musselman Library, Gettysburg College.
Document Type
Finding Aid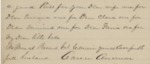 Included in
COinS