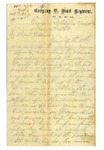 Description
This collection consists of 47 letters written by Henry P. Clare to his brother, William Keating Clare, with the exception of one letter addressed to Lieutenant Colonel M.T. McMahon, Assistant Adjutant General, and one written from a George E. Hyatt to William. The letters in this collection range from January 4, 1863 (although they are mislabeled by Henry to be January 1862) to December 6, 1863. Henry talks mostly of his life in the camp, gives his opinion of the war, and of the Army's and the nation's leadership. Many of the letters are sharply critical of leaders, including Lincoln, Burnside, Hooker, and Meade, and of the way the war is being handled. He admits in one letter that he is a Copperhead, although the term is not looked upon kindly in the army. Letter 18, which is written by another soldier to William, letting him know that Henry is safe after the battle of Chancellorsville, and Letter 26, dated July 5, 1863, details what Henry and his regiment experienced during the Battle of Gettysburg. He occasionally mentions other members of the 83rd, including Colonel Joseph A. Moesch, their regimental commander, with whom he seems well acquainted. Henry is quite a character, and his letters express his unique personality wonderfully, as well as giving insight into some of the politics of soldiering.
Special Collections and College Archives Finding Aids are discovery tools used to describe and provide access to our holdings. Finding aids include historical and biographical information about each collection in addition to inventories of their content. More information about our collections can be found on our website http://www.gettysburg.edu/special?collections/collections/.
Collection Size
.27 cubic feet
Publication Date
December 2005
Keywords
letters, William Keating Clare, Colonel M. T. McMahon, George E. Hyatt, Copperhead, Chancellorsville, Battle of Gettysburg, Joseph A. Moesch, Lincoln, Burnside, Hooker, Meade
Disciplines
Military History | United States History
Copyright Note
This finding aid appears in Gettysburg College's institutional repository by permission of the copyright owner for personal use, not for redistribution.
Recommended Citation
Handley, Sarah E. " Henry P. Clare Letters, Co. D., 9th New York State Militia" (December 2005). Special Collections and College Archives Finding Aids. Special Collections and College Archives, Musselman Library, Gettysburg College.
Document Type
Finding Aid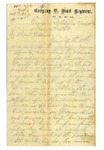 Included in
COinS