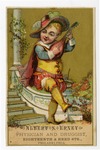 Description
This collection contains 80 nineteenth century trade cards from businesses primarily in Philadelphia (six are from other Pennsylvania location) as well as two decorative images and one three- dimensional square map of Central Europe in German. The cards advertise for a variety of goods and services, including clothing, groceries, beauty and health products, printers, plumbers, jewelers, florists, and more. Many of the cards depict cherubic children, fashionable men and women, prudent consumers using the products advertised, fine art, and include poems, promotions, and manufacturer guarantees. These cards may be of interest to anyone studying methods of advertisement and marketing, graphic design, business history, pharmaceutical history, consumer habits, 19th century fashion and customs, as well as other aspects of Pennsylvania or American social and cultural history.
Special Collections and College Archives Finding Aids are discovery tools used to describe and provide access to our holdings. Finding aids include historical and biographical information about each collection in addition to inventories of their content. More information about our collections can be found on our website http://www.gettysburg.edu/special_collections/collections/.
Collection Size
.18 cubic feet
Publication Date
June 2018
Keywords
Advertising and Marketing History, Graphic Design, Pennsylvania Business History, Trade Cards
Disciplines
Cultural History | History | Labor History | Marketing | Social History | United States History
Copyright Note
This finding aid appears in Gettysburg College's institutional repository by permission of the copyright owner for personal use, not for redistribution.
Recommended Citation
Simmet, Olivia "MS-226: Nineteenth Century Pennsylvania Trade Cards" (June 2018). Special Collections and College Archives Finding Aids. Special Collections and College Archives, Musselman Library, Gettysburg College.
Document Type
Finding Aid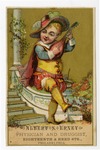 COinS