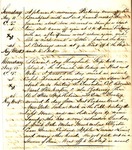 Description
In this journal, Blake details his experiences aboard the USS Preble, which was one of the ships that were deployed to the Gulf Coast as part of the Eastern Gulf Blockading Squadron. His time on the USS Preble is detailed in the first 41 pages of the journal. On page 46, Blake switches to detailing his time aboard the USS Augusta from 1866-67, and also details his 1869 passage to Genoa aboard a ship called the Magdalene. On page 132, Blake switches back to 1862, detailing his two months aboard the USS Connecticut. A possible explanation for this pattern of date jumps may be that Blake stopped using this journal at the end of his time on the USS Preble and began using a different journal to document his experiences in 1862. He eventually resumed using this journal to document later voyages, and may have decided to re-copy the contents of his 1862 journal into this journal in order to consolidate the two. Blake includes small drawings of anchors in the margins next to some of his entries. He has also pasted newspaper clippings into the journal, as well as a photo of his wife Lizzie inside the front cover. Also included are Blake's orders to report aboard the USS Preble as Captain's Clerk and his orders from the Preble's surgeon sending him north with Capt. French.
Special Collections and College Archives Finding Aids are discovery tools used to describe and provide access to our holdings. Finding aids include historical and biographical information about each collection in addition to inventories of their content. More information about our collections can be found on our website http://www.gettysburg.edu/special_collections/collections/.
Collection Size
.18 cubic feet
Publication Date
June 2018
Keywords
Civil War, 1861-1865, US Navy, Naval Blockade, Post-Civil War sea travel
Disciplines
History | Military History | United States History
Copyright Note
This finding aid appears in Gettysburg College's institutional repository by permission of the copyright owner for personal use, not for redistribution.
Recommended Citation
Wilson, Laurel. "MS-225: Joshua Blake Civil War Naval Journal" (June 2018). Special Collections and College Archives Finding Aids. Special Collections and College Archives, Musselman Library, Gettysburg College.
Document Type
Finding Aid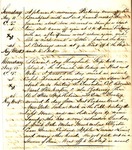 Included in
COinS