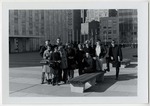 Description
The Myers-Liebegott Papers is a small collection, but it contains some powerful photographs and documents. The information about the Gettysburg College trip to Harlem, contained in Series 3 is particularly interesting for capturing images and information of Harlem during the late 1960s and as documentation of the social activism of the Office of the Chaplain. Copies of Forty Acres and a Mule, published by students on the Educational Program of the New York Urban League are presumably connected to this trip.
Another interesting item in this collection is a 1948 letter written by a German woman, appealing to Charles E. Liebegott for financial or other assistance.
Special Collections and College Archives Finding Aids are discovery tools used to describe and provide access to our holdings. Finding aids include historical and biographical information about each collection in addition to inventories of their content. More information about our collections can be found on our website http://www.gettysburg.edu/special_collections/collections/.
Collection Size
.25 cubic feet
Publication Date
May 2018
Keywords
Gettysburg College Alumni, Gettysburg College Football, Hubert Humphrey, Greek Life, Harlem, Harlem Preparatory Academy, Lutheran Church of America
Disciplines
History | Social History | United States History
Copyright Note
This finding aid appears in Gettysburg College's institutional repository by permission of the copyright owner for personal use, not for redistribution.
Recommended Citation
Lucadamo, Amy "MS-224: Myers-Liebegott Papers" (May 2018). Special Collections and College Archives Finding Aids. Special Collections and College Archives, Musselman Library, Gettysburg College.
Document Type
Finding Aid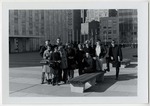 Included in
COinS