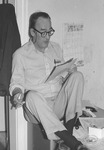 Description
The collection highlights Baskerville's interest in Medieval and Renaissance literature. It includes offprints of some of his published works, fragments and drafts of other scholarly research, and notes that he may have used for some of his lectures. Of special note are copies of his M.A. and PhD. theses from Columbia and a three-page handout created by Baskerville for his Dante course (ca 1960-1969) with drawings by friend and colleague Ralph Donald Lindeman.
Special Collections and College Archives Finding Aids are discovery tools used to describe and provide access to our holdings. Finding aids include historical and biographical information about each collection in addition to inventories of their content. More information about our collections can be found on our website http://www.gettysburg.edu/special_collections/collections/.
Collection Size
.75 cubic feet
Publication Date
Januaray 2018
Keywords
Medieval, Renaissance, Literature, University, 1953-1997, Edward Bakerville, Ted Bakerville, Scholarly Papers, Gettysburg College, English Department
Disciplines
Classical Literature and Philology | English Language and Literature | History | Social History
Copyright Note
This finding aid appears in Gettysburg College's institutional repository by permission of the copyright owner for personal use, not for redistribution.
Recommended Citation
Couchman, G. Ronald. "MS-218: Edward (Ted) J. Baskerville Scholarly Papers" (January 2018). Special Collections and College Archives Finding Aids. Special Collections and College Archives, Musselman Library, Gettysburg College.
Document Type
Finding Aid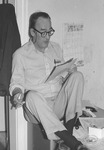 COinS