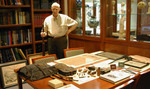 Description
This collection is made up of artifacts relating to the American Civil War. It includes both items from the Civil War era and postwar items. The wartime artifacts were collected by Rev. Dr. Schlack in order to reflect the items a Union soldier would have interacted with in their daily life. The collection of wartime artifacts includes items such as a Springfield rifled musket, a knapsack, and a dice cup with dice. The collection of postwar artifacts relates more broadly to war memory and commemoration, and includes items such as paper souvenir fans from the 75th anniversary of the Battle of Gettysburg and postwar lithographic prints. This collection provides excellent examples of Civil War related material culture, though the items are not specifically linked to one soldier or individual. The collection as a whole reflects the personal interests and efforts of Rev. Dr. Schlack as a collector over the course of many years.
Special Collections and College Archives Finding Aids are discovery tools used to describe and provide access to our holdings. Finding aids include historical and biographical information about each collection in addition to inventories of their content. More information about our collections can be found on our website https://www.gettysburg.edu/special-collections/collections/.
Publication Date
May 2019
Keywords
Civil War, Material Culture, Soldier Life, Post Civil War
Disciplines
History | Military History | Social History | United States History
Copyright Note
This finding aid appears in Gettysburg College's institutional repository by permission of the copyright owner for personal use, not for redistribution.
Recommended Citation
Wilson, Laurel J. "MS-227: Theodore Schlack, Class of 1950 Civil War Artifact Collection" (May 2019). Special Collections and College Archives Finding Aids. Special Collections and College Archives, Musselman Library, Gettysburg College.
Document Type
Finding Aid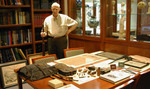 COinS