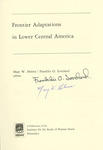 Description
The Franklin O. Loveland Collection is divided into three Series. I. Charles S. Wake; II. Native American Culture and III. Caribbean Culture. Series I is material Loveland collected while conducting research on British anthropologist Charles S. Wake (1835 - 1910) and includes correspondence between Loveland and other Wake scholars. Series II constitutes the bulk of the collection and includes research, articles and various other materials on Native American cultures. Of special note to researchers is the field research Loveland conducted on Shawnee Indians in Oklahoma during his sabbatical during the summer and fall of 1985. Series III includes research, articles and papers on various aspects of Caribbean culture, with the bulk of the Series comprised of field research Loveland conducted in Belize in the summer of 1982.
Special Collections and College Archives Finding Aids are discovery tools used to describe and provide access to our holdings. Finding aids include historical and biographical information about each collection in addition to inventories of their content. More information about our collections can be found on our website http://www.gettysburg.edu/special_collections/collections/.
Collection Size
17 cubic feet
Publication Date
August 1999
Keywords
Charles S. Wake, Native American culture, Shawnee Indians, Caribbean culture, Belize
Disciplines
Anthropology | Cultural History | Ethnic Studies | Indigenous Studies | Latin American Languages and Societies | Social and Cultural Anthropology
Copyright Note
This finding aid appears in Gettysburg College's institutional repository by permission of the copyright owner for personal use, not for redistribution.
Recommended Citation
Ameduri, Christine M., "MS-002: Franklin O. Loveland Papers" (August 1999). Special Collections and College Archives Finding Aids. Special Collection and College Archives, Musselman Library, Gettysburg College.
Document Type
Finding Aid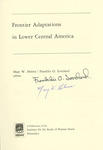 COinS