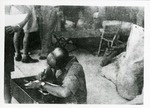 Description
This collection consists of various correspondence between POWs and their families, including 86 letters, 174 postcards, and about eight package slips during both world wars. Most of this correspondence was authored by the prisoners and sent to their families from camps in Europe, although it contains some correspondence from camps in Asia and Africa. The collection also contains correspondence from prisoners in concentration camps, such as Auschwitz, and from interned civilians in France and Germany. Because these letters were the main way to contact family members, most of the POW correspondence contain thoughts of homesickness and loneliness along with updates on an individual's health and the various activities around the camps, including work and leisure. There is also correspondence from families to the prisoners which describe family life but also express sentiments for good health and a quick and safe return. There are also about 143 empty envelopes addressed to various places, including Copenhagen, Denmark and the Red Cross headquarters in Switzerland. Moreover, there are correspondence and envelopes from just before and after World War II, including envelopes commemorating French liberation and postcards to the United Nations from prisoners of the Spanish government begging for intervention in their imprisonment by Francisco Franco. In addition, there are various other items in the collection, including a gardening manual and nine photos from a Taiwanese prison camp, unused postcards, seven postage receipts, stamps from India, a work-receipt from Burma, and three anti-Semitic labels from Belgium, as well as various materials from previous owners of the collection. It should be noted that the items in the collection are written in many different languages, including English, German, French, Italian, Polish, and Russian, although some translations are included by previous owners of the collection.
Special Collections and College Archives Finding Aids are discovery tools used to describe and provide access to our holdings. Finding aids include historical and biographical information about each collection in addition to inventories of their content. More information about our collections can be found on our website https://www.gettysburg.edu/special-collections/collections/.
Collection Size
1 cubic foot
Publication Date
April 2019
Keywords
World War I, World War II, Prisoner letters, POW's, Correspondence
Disciplines
European History | History | Military History | Public History | Social History
Copyright Note
This finding aid appears in Gettysburg College's institutional repository by permission of the copyright owner for personal use, not for redistribution.
Recommended Citation
Murphy, Kelly. "MS-238: Prisoner of War Letters from World Wars I and II" (April 2019). Special Collections and College Archives Finding Aids. Special Collections and College Archives, Musselman Library, Gettysburg College.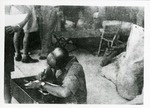 COinS