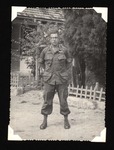 Description
The collection includes maps, photographs, documents, and correspondence related to the service of LTC Richard F. Pendleton '63 and the Vietnam War. These include detailed maps and items highlighting aspects of Pendleton's time in Vietnam and broader pieces regarding different aspects of the Vietnam War era. Much of this correspondence is in the form of e-mails written many years after the war, and thus includes the personal opinions and biases of their authors. The printed articles included in the collection were also selected by Pendleton and reflect his interests and opinions on the war and its aftermath; they are not necessarily sources original to the Vietnam War era. The collection includes deep information on and discussions of Pendleton's advisory team and its operations in Vietnam as a major strength, though it may not be as useful for those seeking first-hand information of those who served in different types of units and organizations. Potential research interests include the work of MACV Advisory Teams, intelligence operations in Vietnam, and veterans' perspectives on the war.
This collection includes some graphic content in Binder 1-2, most notably images of dead Viet Cong soldiers.
Special Collections and College Archives Finding Aids are discovery tools used to describe and provide access to our holdings. Finding aids include historical and biographical information about each collection in addition to inventories of their content. More information about our collections can be found on our website https://www.gettysburg.edu/special-collections/collections/.
Collection Size
3.5 Cubic Feet
Publication Date
December 2018
Keywords
Richard F. Pendleton, Vietnam War, Correspondence, MACV Advisory Teams
Disciplines
Asian History | History | Military History | United States History
Copyright Note
This finding aid appears in Gettysburg College's institutional repository by permission of the copyright owner for personal use, not for redistribution.
Recommended Citation
Bilger, Ryan. "MS-235: LTC Richard F. Pendleton '63 Papers" (December 2018). Special Collections and College Archives Finding Aids. Special Collections and College Archives, Musselman Library, Gettysburg College.
Document Type
Finding Aid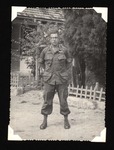 COinS