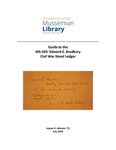 Description
This collection is a 50-page folio journal with the first entry on January 1, 1865 and the last entry on July 2, 1865. There are scattered math equations throughout the journal. The first four pages are instruction based about compass corrections, other navigational tasks, and deck work related to sails. In almost every entry, the day of the week is written, the time, the weather, the location of the ship Bradbury was aboard that day (mostly the U.S.S. Rhode Island), his duties for that day, leisure activities, and his personal health for that day (ex. good, fair, starving). On the inside of the back cover is a laundry list and an address for the laundress. The folio was entirely handwritten in script using both pen and pencil. The ink pen writing is dark and neat. The pencil writing is a little faint but also clear.
Special Collections and College Archives Finding Aids are discovery tools used to describe and provide access to our holdings. Finding aids include historical and biographical information about each collection in addition to inventories of their content. More information about our collections can be found on our website https://www.gettysburg.edu/special-collections/collections/.
Collection Size
1 box, .8 cubic feet
Publication Date
July 2019
Keywords
US Navy, Abraham Lincoln, journal, Edward Emerson Bradbury
Disciplines
Mathematics | Other Physical Sciences and Mathematics | United States History
Copyright Note
This finding aid appears in Gettysburg College's institutional repository by permission of the copyright owner for personal use, not for redistribution.
Recommended Citation
Johnson, Jujuan K. "MS – 245: Papers of Edward E. Bradbury" (July 2019). Special Collections and College Archives Finding Aids. Special Collections and College Archives, Musselman Library, Gettysburg College.
Document Type
Finding Aid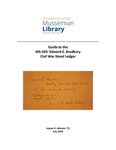 COinS