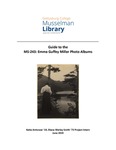 Description
This collection includes three different albums. Two of them are bound in traditional Japanese binding with rice paper; the other may have been constructed to imitate the Japanese bound ones. These albums include Emma Guffey's travels, from traveling around Japan and returning home periodically. They also include photographs of her time living in Japan. The photographs in this album include many small panorama photographs of nature and architecture, and there is a possibility that these albums include a few early colored photographs.
The first album, labeled "1901-1904," begins with a few photos of her final year at Bryn Mawr. It includes some photographs from her initial trip to Japan. Guffey Miller also includes photographs of her family and pictures of her trips back home to the United States while she lived in Japan, as well as a few returning to Japan. There are some colored photos on an island on the way back to Japan. Also included are photos of Osaka from when she lived there and Yokohama. Two major travels she has photographs of in this album are her travels to the Canadian Rockies and the St. Louis World's Fair in 1904.
The second album, labeled "1904," is the one that looks like it imitates the Japanese binding of the others. There are some repeated photographs from the first, but there are more photos included in this album of the World's Fair and her Canada trip. The main focus at the end of this album is her trips around the Kansai and southern Chubu regions of Japan. This includes places like Kyoto, Kizugawa, Yoshida, and Gotemba. These travels all lead up to pictures of Mt. Fuji and Lake Shoji, as well as a village in the surrounding area. There is a photograph of Guffey Miller taking a photo of Mt. Fuji on one of the pages, and on the next is the very picture that she had taken.
The third album, labeled "Japan and Trip home via Suez," focuses on her travel returning home to the United States. As the title states, Guffey Miller and her family decided to travel through Central Asia, the Suez Canal, and Europe before reaching America. There are some photos in Japan at the beginning, but the majority of her photos are dedicated to these trips. Some notable locations are India, Port Said at the Suez Canal, Italy, Germany, France, and the United Kingdom. There is one photo at the beginning of the album that is colored from a trip to Java, Indonesia as well. Many of the photos are of famous sites as well as the people of the countries she visited.
Special Collections and College Archives Finding Aids are discovery tools used to describe and provide access to our holdings. Finding aids include historical and biographical information about each collection in addition to inventories of their content. More information about our collections can be found on our website https://www.gettysburg.edu/special-collections/collections/.
Guffey Miller has captions on most of her photos that include places names and dates, which makes it easy to pinpoint her journeys.
Collection Size
1 box, .5 cubic feet
Publication Date
June 2019
Keywords
Japan, Emma Guffey, suffrage, politics, activism
Disciplines
Civil Rights and Discrimination | United States History | Women's Studies
Copyright Note
This finding aid appears in Gettysburg College's institutional repository by permission of the copyright owner for personal use, not for redistribution.
Recommended Citation
Amtower, Katie. "MS – 243: Emma Guffey Miller Photo Albums" (June 2019). Special Collections and College Archives Finding Aids. Special Collections and College Archives, Musselman Library, Gettysburg College.
Document Type
Finding Aid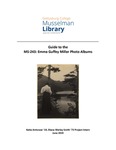 COinS