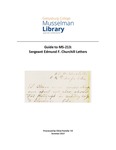 Description
This collection includes numerous letters, in a single box, in good condition written by Edmund Churchill to members of his family at home, chiefly his father and sister, Charlotte. There are fifty-two letters to Charlotte, twenty-one to his father, and four to his brother. There is one letter from Edmund's father, as well as two letters from his brother Theodore to their father. Also included are several pages of Churchill's "diary", which he entitled Memoranda, which cover major events on a monthly basis. Several pages of background are included, provided by the previous owner. The location given for each letter was derived from information provided on the envelopes.
Special Collections and College Archives Finding Aids are discovery tools used to describe and provide access to our holdings. Finding aids include historical and biographical information about each collection in addition to inventories of their content. More information about our collections can be found on our website https://www.gettysburg.edu/special-collections/collections/.
Collection Size
1 box, 0 cubic feet
Publication Date
Summer 2019
Keywords
history, letters, family, diary
Disciplines
Cultural History | History | United States History
Copyright Note
This finding aid appears in Gettysburg College's institutional repository by permission of the copyright owner for personal use, not for redistribution.
Recommended Citation
Parrella, Chloe. "MS – 213: Papers of Edmund F. Churchill" (Summer 2019). Special Collections and College Archives Finding Aids. Special Collections and College Archives, Musselman Library, Gettysburg College.
Document Type
Finding Aid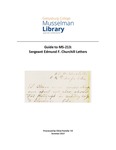 Included in
COinS