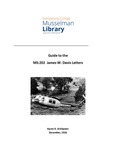 Description
The bulk of the collection consists of 23 letters by James W. Davis (1965-1968) from Vietnam, to his wife, Janet W. Davis, Miami, Florida (Series I). Letters from Janet W. Davis home from Europe in 1951 and Hong Kong and Bangkok in December of 1958 (Series II), help to fill in biographical information. Series II contains four letters from various people to either James or both James and Janet. The collection also consists of news clippings and ephemera sent home by James in his letters (Series IV). James did not place a date on his letters, only the day and time. Dates were determined by a few attached envelopes and/or events described when possible. Ephemera and news clippings had been removed from some envelopes prior to purchase.
Special Collections and College Archives Finding Aids are discovery tools used to describe and provide access to our holdings. Finding aids include historical and biographical information about each collection in addition to inventories of their content. More information about our collections can be found on our website https://www.gettysburg.edu/special-collections/collections/.
Collection Size
1 box, .33 cu. Ft.
Publication Date
December 2016
Keywords
Air America, letters, aerial operations
Disciplines
History | Military History | United States History
Copyright Note
This finding aid appears in Gettysburg College's institutional repository by permission of the copyright owner for personal use, not for redistribution.
Recommended Citation
Dricamer, Karen D. "MS – 202: James W. Davis Letters" (December 2016). Special Collections and College Archives Finding Aids. Special Collections and College Archives, Musselman Library, Gettysburg College.
Document Type
Finding Aid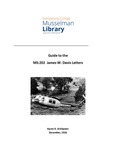 Included in
COinS