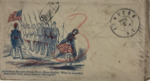 Description
The Whitney Family Civil War Letters collection contains 46 letters from the Civil War Era, 2 Freemason dues notices for Mariner T. Whitney, and four empty letter covers. 37 of the letters, written by Hiram R. Whitney, pertain to his military service and daily life with the 132nd New York Infantry Regiment. Two other letters, written by Henry J. Manning and John Marsh Young relate to their military service with the 11th New York Volunteer Cavalry and the 124th New York Infantry, respectively. John Marsh Young was the nephew of Ruhamah Irwin Whitney, the wife of Mariner T. Whitney. The remaining letters, written by Ann Almira Whitney Manning and Louisa Lennox Whitney Wright to their brother, Mariner, relate to various family concerns.
Special Collections and College Archives Finding Aids are discovery tools used to describe and provide access to our holdings. Finding aids include historical and biographical information about each collection in addition to inventories of their content. More information about our collections can be found on our website https://www.gettysburg.edu/special-collections/collections/.
Collection Size
0.25 cubic feet
Publication Date
June 2022
Keywords
Civil War, New York, Infantry, Union, Union Army, North Carolina, Battle of Petersburg, Freemasons
Disciplines
Military and Veterans Studies | Military History | United States History
Copyright Note
This finding aid appears in Gettysburg College's institutional repository by permission of the copyright owner for personal use, not for redistribution.
Recommended Citation
Russell, Danielle. "Guide to MS-287: Whitney Family Civil War Letters" (June 2022). Special Collections and College Archives Finding Aids. Special Collections and College Archives, Musselman Library, Gettysburg College.
Document Type
Finding Aid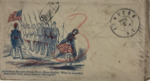 COinS