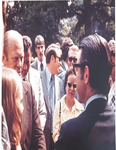 Description
The Tom Wolf Political Papers contains two very different sets of papers. Wolf donated Box One in 2008, and it has several autographed photos addressed to Wolf from Presidents Nixon, Ford, and Bush. Two letters thank Wolf for his dedication to Nixon and his papers. Additionally, there is a signed copy of the book John Chancellor Makes Me Cry by Anne Rivers Siddons.
There are also three boxes of papers relating to Nixon's legal issues. Wolf donated these after he visited Special Collections in 1995. These papers are vastly different; they are mostly court documents relating to the Watergate Scandal. There are several copies of Congressional Reports relating to Watergate and the location of Nixon's Presidential papers. These include briefs, transcriptions of court hearings, memorandums, and newspaper clippings. Wolf has highlighted and annotated the documents. This collection is useful for anyone interested in Nixon and the Watergate scandal.
Special Collections and College Archives Finding Aids are discovery tools used to describe and provide access to our holdings. Finding aids include historical and biographical information about each collection in addition to inventories of their content. More information about our collections can be found on our website https://www.gettysburg.edu/special-collections/collections/.
Collection Size
0.75 cubic feet
Publication Date
June 2022
Keywords
Richard Nixon, Watergate, scandal, presidential papers
Disciplines
American Popular Culture | Political History | President/Executive Department
Copyright Note
This finding aid appears in Gettysburg College's institutional repository by permission of the copyright owner for personal use, not for redistribution.
Recommended Citation
Jensen, Carly. "Guide to MS-291: Thomas P. Wolf Political Papers." (June 2022). Special Collections and College Archives Finding Aids. Special Collections and College Archives, Musselman Library, Gettysburg College.
Document Type
Finding Aid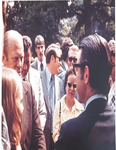 COinS