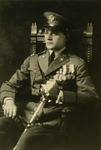 Description
Major General Charles Andre Willoughby was born as Adolph C. Weidenbach in Heidelberg, Germany, March 8, 1892 to Baron T. von Tscheppe-Weidenbach of Baden, Germany, and Emmy Willoughby of Baltimore, Maryland. He attended several schools in both Germany and France, learning German, French, and Spanish, before moving to the United States to be with relatives in 1910. Willoughby enlisted in the Regular Army and was a private, corporal, and sergeant between 1910 and 1913, when he entered Gettysburg College. While at Gettysburg, he founded the college's Reserve Officer Training Corps (ROTC). He graduated in 1914 and received his commission as Major in May of that year. Willoughby later pursued post-graduate studies at the University of Kansas, although he never completed this degree, due to his active duty in World War I.
In August 1916, Willoughby accepted a Regular Army Commission and, while waiting for his appointment, taught at the Howe School in Indiana and Racine College in Wisconsin in the modern language departments.
During his military tenure, Willoughby served the 16th, 35th, 24th, and 65th Regiments of the Infantry and the First Division of American Expeditionary Force, as well as the Air Service in 1918 and 1919. In 1918, he commanded the Aviation Instruction Center at Chatereauroux, France and was the military attaché for United States legislations to Venezuela, Colombia, and Ecuador from 1923-1927.
He served as General MacArthur's Chief of Intelligence from 1940-1951 and participated in active duty in Manila during World War II.
Special Collections and College Archives Finding Aids are discovery tools used to describe and provide access to our holdings. Finding aids include historical and biographical information about each collection in addition to inventories of their content. More information about our collections can be found on our website http://www.gettysburg.edu/special_collections/collections/.
Publication Date
July 2001
Keywords
Gettysburg College, ROTC, World War I, WWI, American Expeditionary Force, Air Service, World War II, WWII, Chief of Intelligence, Silver Star, Distinguished Service Cross, Distinguished Service Medal, Oak Leaf Cluster, Medal of Honor, General MacArthur
Disciplines
Defense and Security Studies | European History | History | Military and Veterans Studies | Military History | United States History
Copyright Note
This finding aid appears in Gettysburg College's institutional repository by permission of the copyright owner for personal use, not for redistribution.
Recommended Citation
Campbell, Jaclyn, "MS-024: Papers of the Major General Charles A. Willoughby" (July 2001). Special Collections and College Archives Finding Aids. Special Collection and College Archives, Musselman Library, Gettysburg College.
Document Type
Finding Aid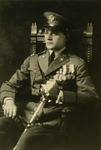 COinS