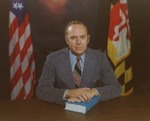 Description
The Papers of Jacob M. Yingling, Class of 1952, consist of 23 boxes of processed material, two portraits, one photograph, and a four-volume, bound set of the Maryland Magazine. The collection encompasses 7.80 cubic feet (11.69 linear feet) and is composed of eleven series arranged somewhat chronologically. For example, series II on Gettysburg College (1949-1952) precedes series III, which documents Yingling's service in the Maryland House of Delegates (1962-1972). Since some of his life activities may coincide with others—Jake served on the Board of Directors of the Maryland School of the Deaf during his appointment as Assistant Secretary to the Department of Economic and Community Development, for instance—it was impossible to construct a pure chronology.
Researchers should note that the collection is rich in local history, particularly Gettysburg College and Adams County, Pennsylvania history, as well as the history of Carroll County, Maryland. Series I, II, and VIII especially reflect this trend. In series I: Genealogy, for example, one not only traces Yingling's family history, but gains valuable insight into Carroll County history as well.
Special Collections and College Archives Finding Aids are discovery tools used to describe and provide access to our holdings. Finding aids include historical and biographical information about each collection in addition to inventories of their content. More information about our collections can be found on our website http://www.gettysburg.edu/special_collections/collections/.
Collection Size
7.80 cubic feet
Publication Date
March 2004
Keywords
Gettysburg College, Maryland House of Delegates, Maryland, Office of Minority Business Enterprise, Tourist Development, Maryland School for the Deaf, Carroll County Historical Society, St. Joseph's Hospital
Disciplines
History | Political History | Social History | United States History
Copyright Note
This finding aid appears in Gettysburg College's institutional repository by permission of the copyright owner for personal use, not for redistribution.
Recommended Citation
Swaney, Keith R., "MS-049: The Papers of Jacob M. Yingling, Class of 1952 (1930 - )" (March 2004). Special Collections and College Archives Finding Aids. Special Collection and College Archives, Musselman Library, Gettysburg College.
Document Type
Finding Aid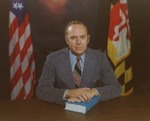 COinS