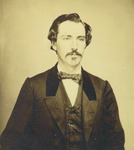 Description
The Robert B. Arms collection consists largely of papers regarding quarterly returns, receipts, and letters from the ordnance office; along with muster rolls, descriptive lists and state of Vermont orders. There is a section on the 16th Regimental Reunions, as well as documents pertaining to Arms' role as Deputy Collector. There is extensive paperwork regarding George Stannard's account, including at testimony made by Arms on the matter of Stannard's bankruptcy. The researcher will find a hefty amount of correspondence between Arms and William A. Scott concerning the sale of property in North Dakota.
Although this is a Civil War collection, it is not a rich Civil War resource. There are a few orders to Arms from his commander Colonel Veazey, as well as detailed letter from Arms to his parents describing the raid on headquarters that resulted in the capture of General Stoughton. The most intriguing item is a letter from Arms to his son written in October 1889 describing his trip to Gettysburg, and the possibility of a misunderstanding of what his Company actually did in the battle. The majority of the collection, however, is the basic paperwork of an officer. The post-war documents demonstrate how Arms served his state after the war, specifically his men in aiding with their pension claims.
Special Collections and College Archives Finding Aids are discovery tools used to describe and provide access to our holdings. Finding aids include historical and biographical information about each collection in addition to inventories of their content. More information about our collections can be found on our website http://www.gettysburg.edu/special_collections/collections/.
Publication Date
Spring 2004
Keywords
Civil War, 16th Vermont, Fairfax Courthouse, Fairfax Station, Pickett's Charge, Battle of Gettysburg, veteran, pensions, Vermont
Disciplines
History | Military History | Social History | United States History
Copyright Note
This finding aid appears in Gettysburg College's institutional repository by permission of the copyright owner for personal use, not for redistribution.
Recommended Citation
Smith, Meggan D., "MS-050: Robert B. Arms Collection" (Spring 2004). Special Collections and College Archives Finding Aids. Special Collection and College Archives, Musselman Library, Gettysburg College.
Document Type
Finding Aid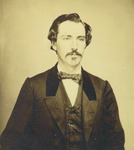 COinS