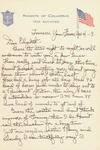 Description
The collection consists primarily of letters from Charles Ryan to Elizabeth Dooling, his wife-to-be. The letters to Elizabeth begin on March 29, 1918 and the final one in the collection is dated June 3, 1919. The only other items in the collection is an envelope addressed to Elizabeth Dooling from Charles Ryan, a newspaper clipping of Ryan's marriage to Elizabeth, a blank postcard with two soldiers on the front, and a letter to Ryan from the Treasury Department.
Although Ryan briefly mentions significant events, such as Germany being defeated and Italy leaving the Peace Conference, his letters focus largely on the mundane tasks of camp life. He constantly comments on how one never knows what to expect with the army: "here to-day and gone to-morrow," and continuously asserts, "Sherman was right, 'War is ----.'" While it may not be extremely helpful to the military historian looking for an individual's experience in battle, the collection does serve as a window into the soldier's mind who is bored with the soldier's life and eager to return home.
Special Collections and College Archives Finding Aids are discovery tools used to describe and provide access to our holdings. Finding aids include historical and biographical information about each collection in addition to inventories of their content. More information about our collections can be found on our website http://www.gettysburg.edu/special_collections/collections/.
Publication Date
April 2004
Keywords
World War I, WWI, 66th Engineers, 20th Grand Division, veteran, soldier, camp life, army life, Knights of Columbus
Disciplines
European History | History | Military History | Social History | United States History
Copyright Note
This finding aid appears in Gettysburg College's institutional repository by permission of the copyright owner for personal use, not for redistribution.
Recommended Citation
Smith, Meggan D., "MS-053: Charles D. Ryan, 66th Engineers" (April 2004). Special Collections and College Archives Finding Aids. Special Collection and College Archives, Musselman Library, Gettysburg College.
Document Type
Finding Aid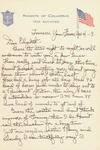 COinS