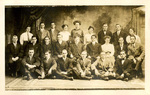 Description
The Papers of the German Literary Society collection consists of manuscripts from the proceedings of the Society from the 1830s to the 1860s. However, there are also three manuscripts that were likely given to the Literary Society at some point during its existence.
The collection contains the constitution and minutes of the Literary Society from its first period of existence during the late-1830s. Researchers will also find the organization's minute book, dated 1856 to 1860, as well as the 1867 version of the Society's constitution. These manuscripts, along with the Society's ledger book, allow one to understand the organization and proceedings of a college literary society that flourished during the mid-19th Century.
In addition, it includes an article written by Professor of German Karl J. Grimm that discusses the history of German societies at Pennsylvania College, ranging from the German Literary Society in 1836 to the German Verein in 1906.
Special Collections and College Archives Finding Aids are discovery tools used to describe and provide access to our holdings. Finding aids include historical and biographical information about each collection in addition to inventories of their content. More information about our collections can be found on our website http://www.gettysburg.edu/special_collections/collections/.
Collection Size
1 cubic foot
Publication Date
May 2004
Keywords
Gettysburg College, Pennsylvania College, German Literary Society, German societies, collegiate societies
Disciplines
Cultural History | History | Intellectual History | Social History | United States History
Copyright Note
This finding aid appears in Gettysburg College's institutional repository by permission of the copyright owner for personal use, not for redistribution.
Recommended Citation
Swaney, Keith R., "MS-055: The Papers of the German Literary Society" Trans. Arthur McCardle and Michael Ritterson (May 2004). Special Collections and College Archives Finding Aids. Special Collection and College Archives, Musselman Library, Gettysburg College.
Document Type
Finding Aid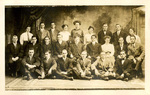 COinS