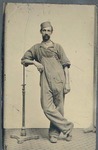 Description
The Henry N. Bemis collection consists primarily of two diaries kept by Bemis during the Civil War. The first diary runs from July 17th, 1862 to March 14th, 1864 while the second diary runs from March 17th 1864 to July 4th 1864. Both diaries contain frequent entries detailing the events of each day. Also included in the collection are two tintypes, a photograph, and Bemis' discharge from service. The two tintypes are most likely images of Bemis and his wife, Georgia A. Bemis.
Special Collections and College Archives Finding Aids are discovery tools used to describe and provide access to our holdings. Finding aids include historical and biographical information about each collection in addition to inventories of their content. More information about our collections can be found on our website http://www.gettysburg.edu/special_collections/collections/.
Publication Date
September 2004
Keywords
Civil War, Wartime Diaries, 15th Massachusetts, Fredericksburg, Chancellorsville, Gettysburg, Cold Harbor, Union Army
Disciplines
History | Military History | United States History
Copyright Note
This finding aid appears in Gettysburg College's institutional repository by permission of the copyright owner for personal use, not for redistribution.
Recommended Citation
Light, Stephen H., "MS-060: Henry N. Bemis Diaries." (September 2004). Special Collections and College Archives Finding Aids. Special Collection and College Archives, Musselman Library, Gettysburg College.
Document Type
Finding Aid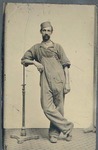 Included in
COinS