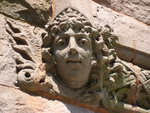 Document Type
Student Research Paper
Publication Date
Spring 2006
Description
When one walks around the campus of Gettysburg College, Glatfelter Hall towers above them, as one of the College's most commanding edifices. One takes notice of the arched doorways, sunken windows, and the giant bell tower whose occupant chimes on the hour. What one may not notice are the eyes watching from the brownstone; faces and creatures at home in the stone, surveying your every move. Grotesques and gargoyles sit in the moldings, on the window sills and at the junction where roof and wall meet, hidden from the eye that does not have the compulsion to look. These architectural ornaments are not noticed outright because they tend to blend in with the stonework on the building. However, once you have seen them, you never cease to feel their eyes upon you. [excerpt]
Course Information:
Course Title: HIST 300: Historical Method
Academic Term: Spring 2006
Course Instructor: Dr. Michael J. Birkner '72
Hidden in Plain Sight is a collection of student papers on objects that are "hidden in plain sight" around the Gettysburg College campus. Topics range from the Glatfelter Hall gargoyles to the statue of Eisenhower and from historical markers to athletic accomplishments. You can download the paper in pdf format and click "View Photo" to see the image in greater detail.
Keywords
Gettysburg College, Hidden in Plain Sight, architecture, Glatfelter Hall, gargoyles
Disciplines
American Art and Architecture | Architectural History and Criticism | Architecture | History | History of Art, Architecture, and Archaeology | Public History | United States History
Recommended Citation
Anthony, Katherine D., "Gargoyles on Glatfelter Hall" (2006). Hidden in Plain Sight Projects. 3.
https://cupola.gettysburg.edu/hiddenpapers/3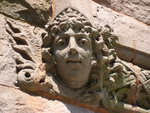 COinS