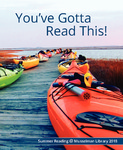 Abstract
Each year, Musselman Library asks Gettysburg College faculty, staff, and administrators to help create a suggested summer reading list. We hope to inspire students and the rest of our community to take time in the summer to sit back, relax, and read; or watch a memorable film.
With the 2018 collection, 102 employees offer 178 recommendations of favorite books, films, and television programs. These selections touch on everything from politics to romance.
We include several special features this year. Two of our regular columnists return once again: James Udden with his latest recommendations for the best film and TV, and Allen Guelzo who reveals some of his favorite fiction. There are also columns recommending films about the importance of a free press, and outdoor adventurer Tucker Little offers ideas for reading and podcasts for a summer expedition.
Everyone is sure to find some treasures in these pages. Happy reading!
Publication Date
Summer 2018
Recommended Citation
Musselman Library, "You've Gotta Read This: Summer Reading at Musselman Library (2018)" (2018). You've Gotta Read This: Summer Reading at Musselman Library. 16.
https://cupola.gettysburg.edu/summerreads/16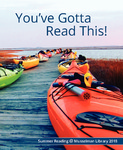 Included in
COinS