The Mercury: The Student Art & Literary Magazine of Gettysburg College began in 1893 and is currently published annually. All students of the College are invited to participate and submit their work. Student editors are elected annually by the entire staff. Submissions are accepted on a rolling basis, with a deadline of December 31 for each issue. Submissions are reviewed and chosen anonymously by the staff. The magazine is published in April.
The Mercury accepts submissions of fiction, nonfiction, poetry, artwork, and photography. See the Submission Guidelines page to answer your questions about what and how to submit your work.
Now accepting submissions for the 2017 issue!
Current Year: 2016
Complete Issue
Fiction
Nonfiction
Poetry
Artwork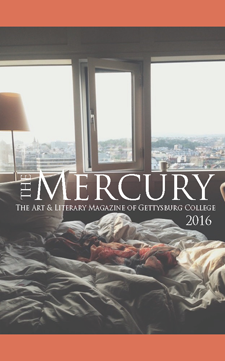 Editors
Editors-in-Chief

Celina Harris
Sydney Braat

Editors

Erica Schaumberg
Sarah Linton
Laura Meyer
Jared Richardson
Maria Wanner
Katie Bolger
Annika Jensen
Victoria Blaisdell